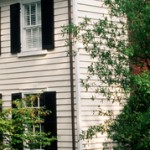 This year is the seventy fifth year that officially marks the foundation of historic preservation in Richmond, Virginia in 1935. Laying the ground work for preservation in the 1920's and 30's, "Mary Wingfield Scott, Elisabeth Scott Bocock, Louise Catterall and Mary Reed contributed significantly to the increased appreciation for Richmond's built environment through research, publication, postcards and walking tours". It wasn't until 1935 when an important historic structure, the Adam Craig House, was threatened with demolition that the idea of preservation as a practice was established.
It was Mary Wingfield Scott who formed a committee in order to purchase and preserve the Craig House. Located at 1812 East Grace Street, it was "the childhood home of Jane Craig Stanard, the subject of Edgar Allan Poe's "To Helen," the Adam Craig House was one of the few remaining 18th century structures in Richmond". The then 145 year old home was saved from destruction and is touted as perhaps the oldest continuously occupied residences in Richmond today.
The Adam Craig House is listed again for sale by Virginia Properties, a Long & Foster Company; in August of 2010 this historic landmark is once again available for purchase in time to celebrate one of the most remarkable foundations in Richmond. Qualified purchasers can call for an appointment and the opportunity to own a significant piece of historic Richmond History.
Researched through the Historic Richmond Foundation, 4 E. Main Street, Suite 1-C, Richmond, VA 23219, www.historicrichmond.com