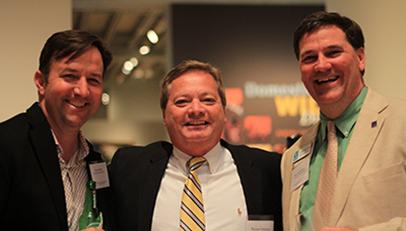 Photo from 2012 Awards Reception
Outstanding Production Awards Reception & Panel Discussion with YPN/RVA
Tuesday, May 6, 2014Â 
4PM – 5PM – YPN/RVA Panel 
5PM – 7PM – Outstanding Production Awards Reception featuring the JTL Band
YPN/RVA Panel | 4PM – 5PM
Listen to YPN/RVA panelists Elliott Gravitt, Alex Glaser, Rhonda Howlett, and Dawson Boyer as they discuss why they chose real estate as a profession and what keeps them in the industry.
MEET THE PANELISTS:
DAWSON BOYER
Dawson Boyer is a Richmond native who grew up in Henrico County. He graduated from the Virginia Military Institute in 2008, and after a brief stint in 'Corporate America' he transitioned to residential real estate with Long & Foster in August of 2010. Dawson was a Long & Foster Rookie of the Year and most recently a Long & Foster Top 25 producer.  
Outstanding Production Awards Reception | 5PM – 7PM
Following the YPN/RVA panel, enjoy the evening at beautiful Willow Oaks Country Club for a reception to honor award recepients. Â Get on the dance floor to the fun and eclectic sounds of the JTL Band (Just a Touch of Love). Drinks and heavy hors d'oeuvres will be provided.
Admission to the reception is FREE of charge for all award winners. Â Additional tickets can be purchased for $25 each. Â 
To register for this event, please contact Kathryn Burke at 804.422.5000, or email kburke@rarealtors.com.