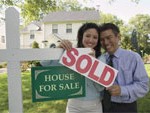 If you don't think things are changing in the real estate housing market, well think again! It's easy to get caught up in media reports the most recent real estate market statistics that point to improving sales conditions in the Richmond Metropolitan area and believe home sales are getting better. After all, it's just more of the cautious optimism that's been keeping us going for the last three or four years, right? On the other hand, recent activity indicates genuine change has arrived. Of course some areas will lag behind others as the market picks up, but Realtors can sense the new mood wafting across the plains.
Market activity has been on the increase since at least November 2011. Our individual numbers as well as every stat tracking real property transfers confirms it. Nevertheless, real estate professionals have been cautiously monitoring trends to see if conditions were actually improving, or if perhaps this was simply another market teaser. It is one thing to watch the numbers reportedly go up, but quite another to see actual behavioral change.
Just last weekend we called to schedule an appointment to visit a home in the west end of Richmond. There were so many appointments we could not be accommodated. It didn't matter that we were willing to wait another day to see it because the seller received so many contracts on the first day they discontinued showings and agreed to work with one of the offers submitted the first day. WOW! You might say this is just one story, but it's not. We are hearing about other interactions similar to this where multiple offers have been generated. But of course the good ones will always sell fast!
This may not be the norm, but it most assuredly points to distinctive change in the attitudes of people ready, willing and able to buy a home. With dwindling inventory, improved market conditions, historically affordable interest rates, I would not be surprised to see more interesting stories like this one that point to a changing real estate market for 2012.
 Ann & John VanderSyde, Associate Brokers – Virginia Properties, A long & Foster Company "2009, 2010 & 2011 Sales Team of the Year" (804) 287-4660   www.InSydeHomes.com  "HOME is a Lifestyle Choice!"